Membership Information
Members should update their contact information and reconfirm coontinued interest in the Centre County Chapter annually. The Chapter offers programs and events throughout the year and keeping your information up-to-date ensures you will continue to receive our monthly newsletter and timely updates and invitations to events.

Renew Online for Uninterrupted Access to Benefits
Our online membership renewal process is the fastest and easiest way to renew your membership and ensure that you don't lose access to exclusive member benefits. To renew today, simply complete the steps below and pay via credit or debit card.
If you prefer to pay by check, click on this link; Printable Membership Form, print the form, complete it and mail in along with your payment.
If you renew prior to your membership expiration date, your membership will automatically renew for one year from your current expiration date. For example, if your membership expires on June 30, 2019 and you renew on June 15, 2019, your membership will be extended until June 30, 2020.
If you have any questions about renewing your CCCPSAA membership, please feel free to contact a representative of our Membership Committee at membership@psucentre.org.
Step 1: Log in using the "Login here...." section below.
Step 2: Once logged in, select the "Individual Membership" and click on the "Continue" button that will appear.
Member Benefits:
Membership in the Centre County Chapter of the Penn State Alumni Association includes the following benefits:
Receipt of the monthly chapter newsletter

Admission to monthly happy hours -- a great way to meet other Penn State alum in a fun and casual environment

Access to chapter events and functions, including bus tours, sporting events, and arts/cultural activities

Volunteer events both on campus and within the State College community -- we frequently support THON, United Way, the State College Food Bank, Spend a Summer Day, Accepted Student Orientation, our endowed scholarship and emergency fund for Penn State students

Access to the online member directory

Invitation to the chapter's Annual Meeting

Eligibility for access to the Penn State Federal Credit Union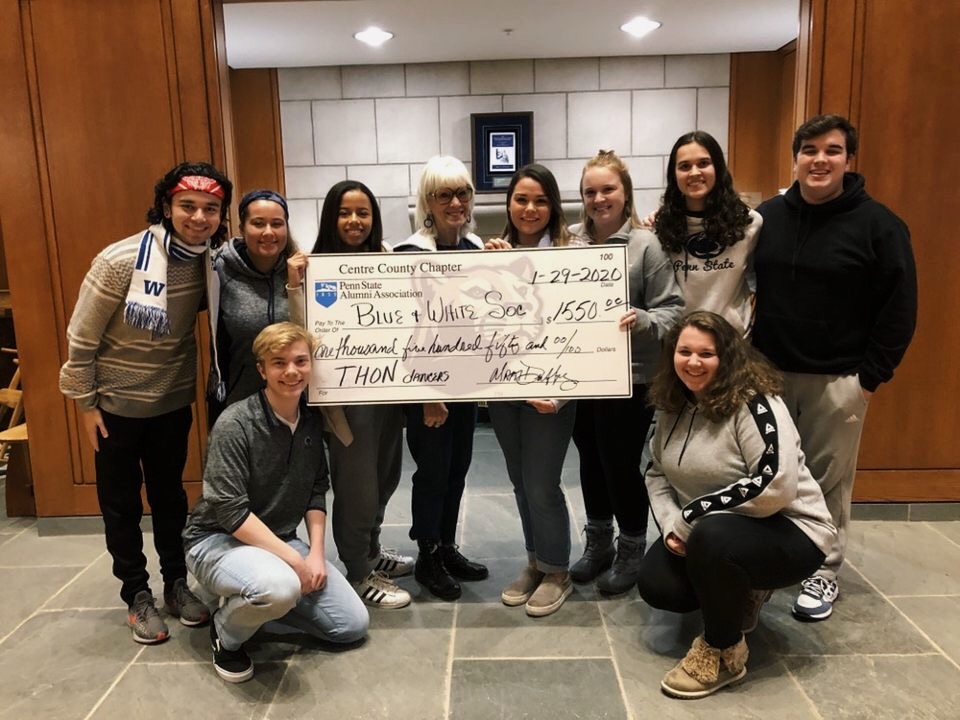 CCCPSAA Blue & White THON Support - Jan 2020
New to Our Site?
Fill out the fields below and a temporary password will be emailed to you within the next several minutes.