Membership Information
Dear Centre County Chapter member,

Thank you for belonging to our local chapter of the Penn State Alumni Association (CCCPSAA). We want to let you know about coming changes that will affect membership in our chapter.

Starting July 1st, PSAA membership at the local and University level will be combined. Local chapters will no longer collect dues—instead, access to local chapters will be included with PSAA membership. This makes it easier for more alumni to connect with the Penn State community when and where they want and will enable chapters like ours to engage more local alumni.

If you are a current member of the Centre County Chapter but not the PSAA. Since chapter membership and PSAA membership will be combined July 1, your chapter membership will be converted to a full PSAA membership from July 1, 2022, to December 31, 2022.
If you are a current member of the Centre County Chapter and a PSAA member, we suggest that you log into your PSAA membership account and make sure all of your contact information is up-to-date so you continue to receive all information from both PSAA and CCCPSAA.
Everyone will receive all the benefits of the PSAA membership, including:

• Bi-monthly issues of the Penn Stater magazine
• The Football Letter, our report on each Nittany Lions game from the alumni perspective
• LionPerks, a members-only discount program for national and local businesses
• Exclusive Penn State resources online
• Access to local chapter events
• And more

You do not need to take any action at this time, but you may wish to visit www.alumni.psu.edu/fullaccess for FAQs and to learn more about how bringing together chapter and Alumni Association membership will benefit the Penn State family.

You will receive more details about your PSAA membership in the coming weeks.
You can continue to donate to support the Chapter's Endowed Scholarship, Emergency Fund, Blue Band and THON donations. You may donate via credit or debit card at these links .
Donate to the Endowed Scholarship Fund Click HERE.
Donate to the Emergency Student Assistance Fund Click HERE.
We will be updating a printable donation form for those that prefer to donate by check. Until then send a check with the fund you would like to donate to in the memo line on the check or put a note in with your check so that we direct your donation to the correct fund.
Feel free to contact our chapter leaders at onemembershipquestions@psucentre.org if you have additional questions in the meantime.

Thanks again for participating in our chapter and contributing to the local Penn State alumni community.

Best regards,

Centre County Chapter
P.O. Box 10082
State College, PA 16805-0082
Member Benefits:
Members of the Penn State Alumni Association and the Centre County Chapter receive the following benefits:
Bi-monthly issues of the Penn Stater magazine
The Football Letter, our report on each Nittany Lions game from the alumni perspective
LionPerks, a members-only discount program for national and local businesses
Exclusive Penn State resources online
Access to local chapter events
Receipt of the monthly chapter newsletter
Admission to monthly happy hours -- a great way to meet other Penn State alum in a fun and casual environment
Access to chapter events and functions, including bus tours, sporting events, and arts/cultural activities
Volunteer for events both on campus and within the State College community -- we frequently support THON, United Way, the State College Food Bank, Spend a Summer Day, Accepted Student Orientation.
Invitation to the chapter's Annual Meeting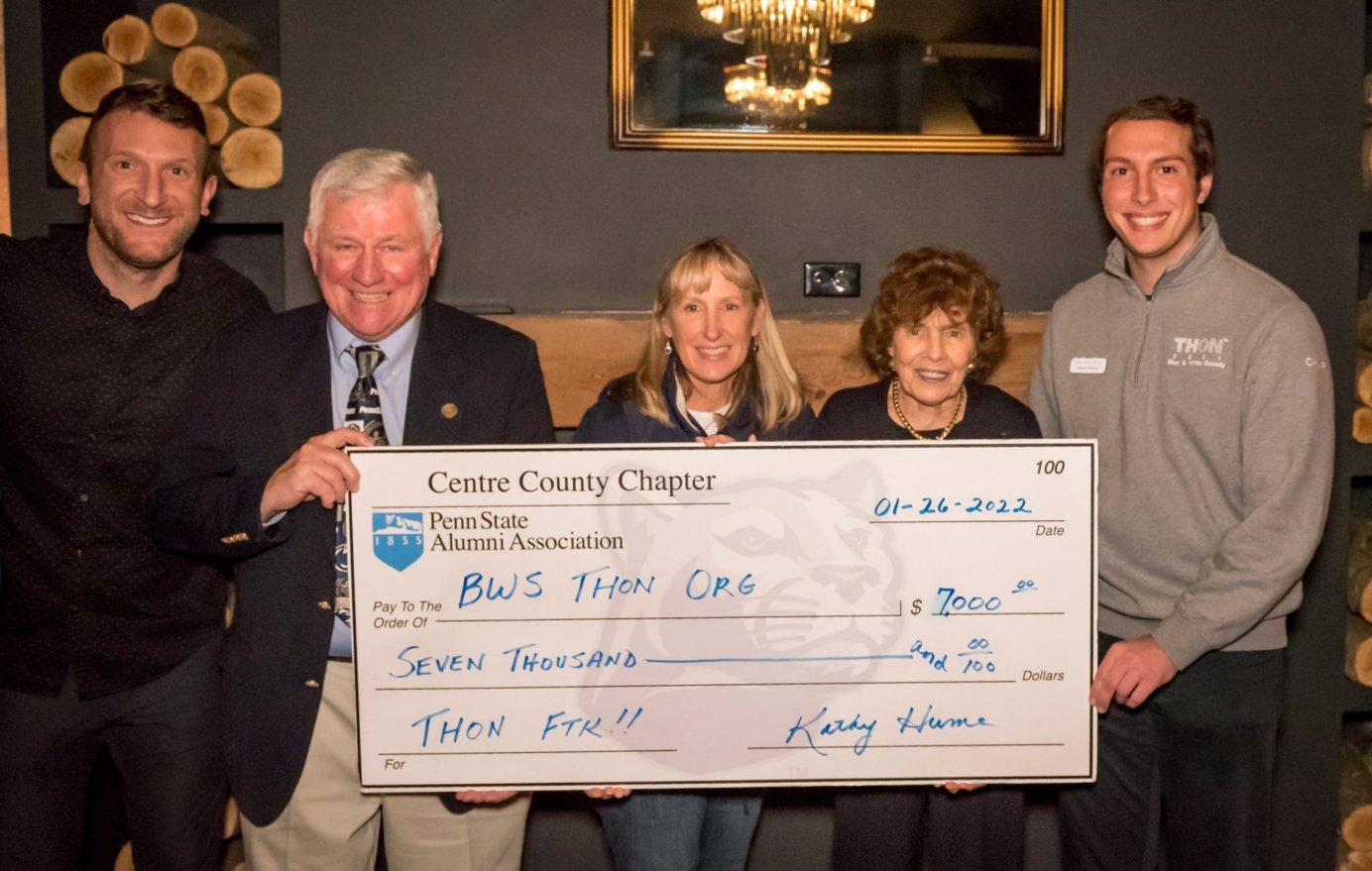 CCCPSAA Blue & White THON Support - Jan 2022