Join the official community for local Penn State alumni and friends!
Whether you're a recent Penn State graduate, a working professional in the Centre Region, or a retiree who has returned to Happy Valley, the Centre County Chapter of the Penn State Alumni Association (CCCPSAA) is a great way to network with a diverse group of individuals who all have one thing in common: a passion for everything Blue and White!

Inclusive Membership Open To Everyone
Although encouraged, membership in the main Penn State Alumni Association is not required to join the Centre County Chapter. Membership in our chapter is open to everyone, regardless of where you earned your degree -- University employees and local residents are welcome to join and participate in our chapter activities.

Join Today For Immediate Access To Benefits!
To join with immediate access to member benefits, simply complete the easy sign-up process below and pay via credit or debit card -- you'll immediately be able to build your personal profile in our member directory.
If you prefer to pay by check, click on this link; Prinable Membership Form and mail in your application with payment.
If you have any questions about membership in CCCPSAA, please feel free to contact a representative of our Membership Committee at membership@psucentre.org.

Online Member Application:
Member Benefits:
Membership in the Centre County Chapter of the Penn State Alumni Association includes the following benefits:

Free admission to monthly happy hours -- a great way to meet other Penn State alum in a fun and casual environment

Special pricing on chapter events and functions, including bus tours, sporting events, and arts/cultural activities

Volunteer events both on campus and within the State College community -- we frequently support THON, United Way, the State College Food Bank, Spend a Summer Day, Accepted Student Oriendation, and our own scholarships for Penn State students

Access to the online member directory

Invitation to the chapter's Annual Meeting, typically a professionally catered picnic

Eligibility for membership in the Penn State Federal Credit Union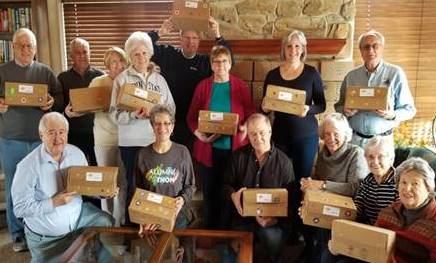 CCCPSAA provided THON Dancer packages for THON February 2019